A 5-star, 4K, 3D AV experience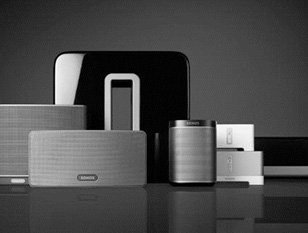 Redhill Aerials is ready to bring the ultimate in entertainment systems to domestic and commercial customers across Surrey.
HOME IS WHERE THE SMART IS –DOMESTIC AUDIO VISUAL INSTALLATION SERVICES
Home cinemas are now so advanced they can almost rival the audio and visual feast you get at your local multiplex. State of the art projectors and televisions, combined with wall and ceiling mounted surround sound speakers bring stunning clarity and awesome sound to your home. In fact, all you need to complete the big screen entertainment experience is the popcorn.
Buying the tech is one thing. But installing it all so that it works perfectly and looks amazing requires expertise. We've got that expertise and will ensure all the wires and stuff you don't want to see stay out of sight.
Of course, our AV skills go beyond home cinemas. Imagine connecting your TV systems, internet, computer software, lighting and CCTV to one easy to use network.
We can give your home a stunning integration of sound and vision that can be controlled by your fingertips, creating a bespoke home environment that will impress everyone.
Our innovative solutions are designed to ensure a superior standard of living in the one place in the world where you need to feel you're most relaxed. Home.
However ambitious your AV project, Redhill Aerials will help make it happen. Call us in early on and we can help plan the set-up so you get a home AV experience that really is the envy of your friends, family and neighbours.
Eager to get started? Call us now and our AV Technicians could be helping you within 24 hours.
01737 321341.
COMMERCIAL AUDIO VISUAL INSTALLATION SERVICES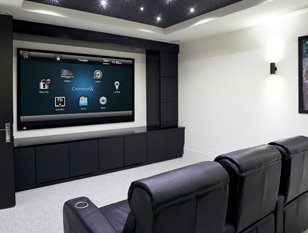 We've installed innovative AV systems in gyms and restaurants, bars and shopping centres and all kinds of other leisure facilities.
Our skills have improved the sound systems and atmosphere in live music venues and we've installed permanently fixed HD projectors with surround sound in offices across Surrey.
Rely on Redhill Aerials to develop and deliver bespoke packages to meet your entertainment and conference requirements. Our Technicians will carefully assess the layout and acoustics of each proposed installation site, and work closely with you to develop the set-up you want.
Other AV installations we can help with include:
Multi-zoned TV systems
Plasma and LCD visual display systems for branding and advertising
Video conferencing via fixed projectors
Sound systems for nightclubs, gyms and music venues and bars
Sonos & Bose Sound Systems
Outdoor wireless speaker systems
Paging systems
High quality TV and music services in multiple rooms.
It all starts with your call to us on 01737 321341
EXTRA PEACE OF MIND FROM OUR AV SUPPORT AND MAINTENANCE PACKAGE
Sign up for a small annual fee and we'll:
Conduct quarterly inspections of your AV set-up
Maintain the ongoing effectiveness of your system.
Replace faulty or ageing parts
Test how your AV service is performing, even if we didn't install it
Give unbiased feedback on how it can be fixed, maximised, expanded and/or upgraded
RELY ON REDHILL AERIALS TECHNICIANS
Our Senior Technicians have at least 5 years' practical industry experience and are certified to work at extreme heights. Each holds a full CRB certificate and is fully trained and insured. All are well versed in the latest products, including Bose and Sonos sound systems.