Trust Surrey's TV Wall Mounting Experts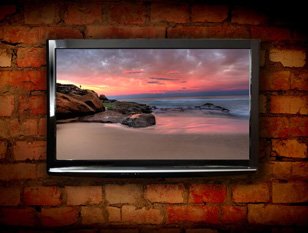 OLED. Curved. Smart 4K. HDR LED. Chances are, whatever TV you've got, you want it to enjoy pride of place in your lounge. Or you want to hang it somewhere out of the reach of pets and children where it can still be easily seen.
With the size of TVs seeming to grow every year (not to mention the price) safely mounting your set on the walls of your home or office is getting more and more challenging.
Don't risk a disaster. Call in the experts here at Redhill Aerials. We hang all kinds of TVs to all kinds of walls in all sorts of places on a daily basis.
From remote controlled brackets to flush, tilt and swing mounts, we'll make sure that flatscreen TV you've just bought or want moved hangs exactly where and how you want it. We'll even make sure you don't have to look at unsightly cables every time you watch it, by discreetly routing them out of sight.
Of course, you might even want a wall mounted TV taken down, because you're moving house or just moving things around at home. Well, Redhill Aerials can help with that too.
Get your TV wall mounted today. Call 01737 321341.
RELY ON REDHILL AERIALS TO WALL MOUNT YOUR TV
Here's why residents and businesses across Surrey call us first when they need a TV mounted to the wall:
Simple, hassle-free TV set-up service
12 Month Parts And Labour Guarantee
Same Day TV wall mounting Service
Local and reliable
We'll even set-up and tune-in your TV
We'll install any TV on any suitable wall in any room, whether it's a 30" LED in the bathroom, or a full-on home cinema system in its own room. And if you need your Sky or other set-top box to be working on that TV, we'll do that too.
TRUST OUR TECHNICIANS
When a Redhill Aerials Technician knocks at your door, you'll know they're an expert in their field who is fully trained and experienced in all TV wall mounting techniques.
No engineer gets to work for Redhill Aerials unless they have at least 5 years' experience. And all of our team work exclusively in the Surrey area and carry full public liability insurance.
They use only the finest materials and are motivated to provide every customer with the very best service. The kind that, when you next need a TV on a wall, makes you call us first.
They even have a few tricks up their sleeves to ensure when your TV is wall-mounted it's especially tricky for anyone to steal. Just ask us about these extra security measures when you call.
TV WALL MOUNTING FOR COMMERCIAL CUSTOMERS
No two walls or wall mounts are the same, and all our Technicians are ready to customise their installations, especially when it comes to TV wall mounting for commercial customers.
Pubs and bars looking to upgrade their TVs to show sports can rely on Redhill Aerials to deliver the set up you want, whether it's a big screen in one corner, or loads dotted around the walls. And of course, we'll make sure all cabling stays out of sight and out of mind.
WE'LL DO MORE THAN JUST WALL MOUNT YOUR TV
Getting a TV up on the wall is usually only half the story. Smart TVs that connect to the internet and give you a huge choice of channels often take a bit of setting up.
Our Technicians can help with that, offering one of the best smart TV set up services in Surrey. The services we offer include:
Configuring your service so that it's connected to your broadband either via Wi-Fi or a fixed ethernet cable
Carrying out system updates
Downloading all the content you require
Running through how your system works
If you're experiencing reception problems with any of your sets, whether they're wall-mounted or not, and whether they were installed by Redhill Aerials or not, our Technicians will find the fault and fix the problem, usually right there and then.
Call Redhill Aerials today on 01737 321341