Bespoke solutions for commercial clients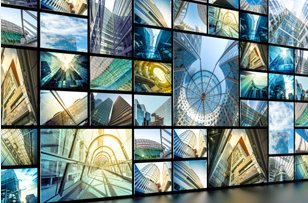 One building. Multiple viewers. How can they all watch what they want at the same time? It's the kind of challenge that faces all kinds of locations containing separate groups of people - from apartment blocks to hospitals, schools to prisons.
Delivering technical solutions from the planning stage through the design phase to installation is what the team here at Redhill Aerials & Aerials thrives on.
If you already know the sort of system you want, give the team a call on 01737 321341 now, and let's get started.
If you're here to find out more about your options, here's a quick overview of the kinds of systems you can choose from to meet your multiple viewing needs:
IRS
WHAT IS IT?
It stands for Integrated Reception Systems and offers a full range of digital TV and radio channel transmissions from Sky, Freeview, Freesat to other, more obscure international satellite channels.
IRS allows users to transmit a full suite of entertainment packages to their tenants – including subscription, multiple channel and free to air services. It also permits the transmission of foreign language satellite services.
WHO'S IT IDEAL FOR?
Developers and landlords across Surrey who are keen to offer the newest digital television services to their tenants in multi-dwelling properties will find this state-of-the-art technology ideal.
IRS gives tenants the option to create their own personal TV package from a combination of TV service providers. It's a great selling point for new developments and apartments that are looking for features to help them stand out.
MATV & SMATV
WHAT IS IT?
MATV
This stands for Master Antenna Television. It's a system whereby a TV and/or radio signal is transmitted via an antenna to multiple points throughout a building or complex.
SMATV
Satellite Master Antenna Television uses a satellite dish and a TV antenna to receive programming from various satellite broadcasters and local networks which are then combined to give customers a single feed.
WHO'S IT IDEAL FOR?
Both MATV and SMATV are popular systems for hospitals, hotels, gyms and prisons. This is because they provide an effective way to provide basic TV and radio reception to a highly populated environment. It's the most cost-effective commercial multi-site system you can choose. What's more, unsightly aerials and cables can be hidden away, or you can go totally wireless.
RELY ON REDHILL AERIALS TO INSTALL YOUR COMMERCIAL AERIALS.
We have a specific commercial team who are all trained in every aspect of aerial technology to deliver bespoke solutions to commercial customers.
All fully insured, the team will organise, plan, cost-up, design and install your new system, however complex your building arrangements, and even if the installation needs to happen somewhere that other installation companies have refused (eg. somewhere very high up).
WHY CHOOSE REDHILL AERIALS?
SAME DAY SERVICE - We can visit your site on the day you call us.
FREE CONSULTATION - Starting from scratch or looking to upgrade your current system? Either way, call us first and we'll give you an unbiased assessment and competitive quote with no obligation.
COMMERCIAL SUPPORT AND MAINTENANCE SERVICE - Problems happen, and as a business with clients to keep happy, you want them fixed fast. We know that, which is why we provide an emergency 24-hour response service.
It doesn't matter whether we installed your system in the first place. If your AV system goes down on the day of a big presentation at your office, or before a big event at your restaurant or bar, rely on Redhill Aerials to fix it fast. Call us on 01737 321341
You'll soon see why so many customers return to us when they need an upgrade or expert advice.